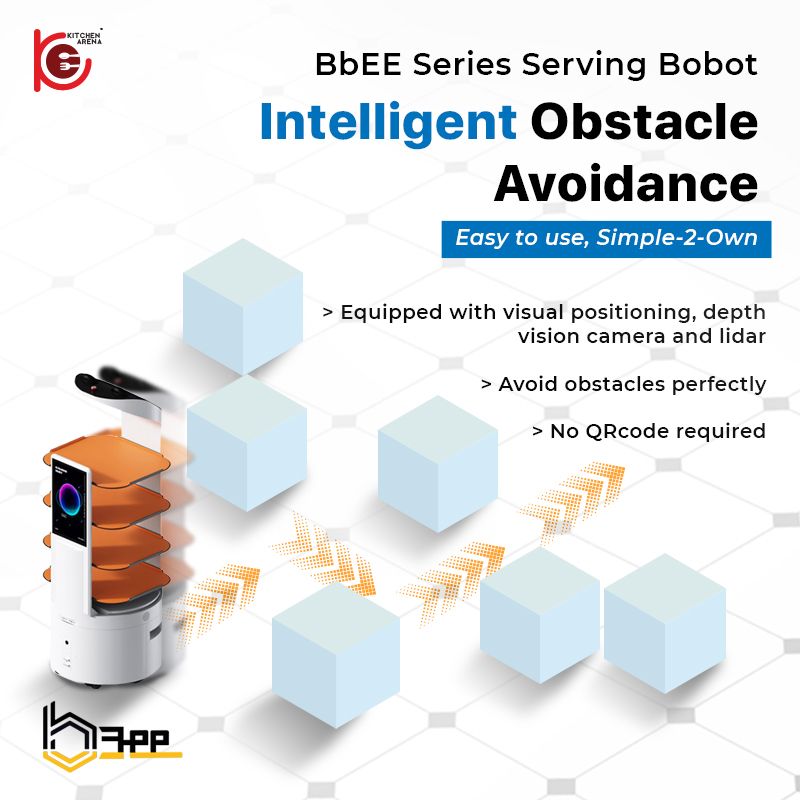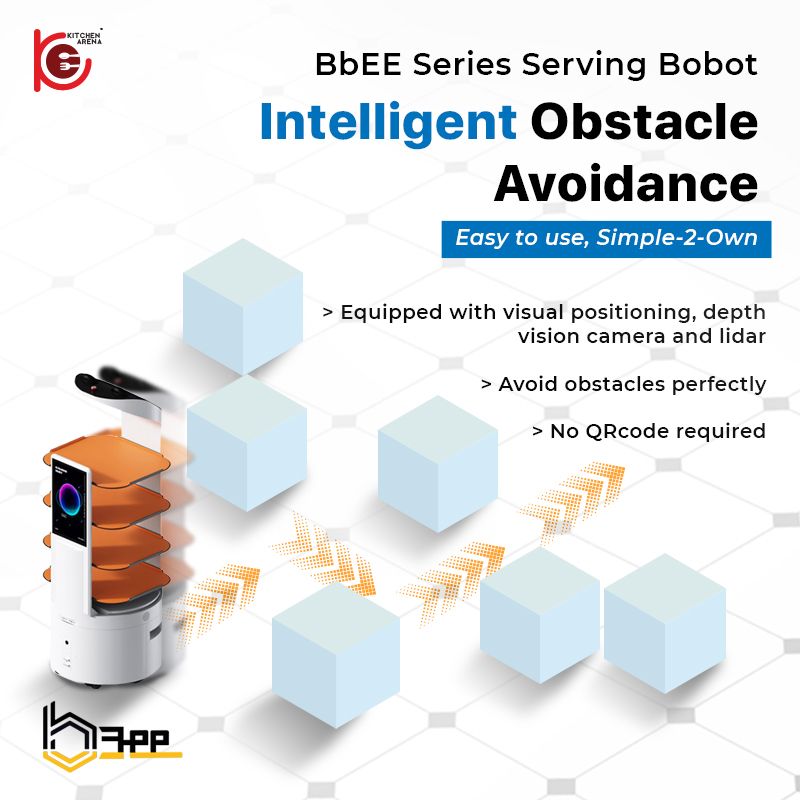 What is robot waiter?
A robot waiter is a robot that takes orders and delivers food to diners at a restaurant or even at café's.
Normally, robot waiters deliver the foods to customers and not really engaged with taking orders. Thankfully, they also can take away your dirty dishes away without any issue.
Restaurant owners or staff still need to operate the robot waiter to load the orders according to each table, such as tell the robot where to deliver the order, and put used dishes onto the robot.
Bbee Series Serving Robot at Kitchen Arena in Malaysia now.
BbEE Series Serving Robot is designed by an excellent robotic solution company in Malaysia that is created like a human in serving customers. There is 3 series of robots: BbEE-GO; BbEE-FLASH; BbeePO.
Mainly featured with auto plan best route, intelligent obstacle avoidance, high definition advertising screen, heavy load with super performance, energy changing and fast charging and low battery automatic recharge.
Besides that, it delivers high precise navigation at the greater uptime, speed, and consistency. Consists of distribution mode, cruise mode, recycling mode, birthday mode and etc. Distribution mode is where by defaults the robot waiter can stay up to 30 sec in distribution area. The cruise mode is where the robot will produce sound while for recycling mode will make the robot waiter to get back the utensil from the table. Moving on to the birthday mode, the robot waiter will start to sing happy birthday same as the delivery mode.
Also, equipped with visual positioning, depth vision camera, motion detection up to 2.5 cm, lidar don't get lost when walking and avoid any obstacles perfectly. Easy to setup since no coding is required. It is manufactured with number of trays, a touchscreen, and an infrared camera that allows it to navigate around the dining room. A staff may loads the required food for a table onto one of the trays, enters a table number, and Robot waiter will be on toward its work to deliver hot, fresh food.
The Advantages of Using Bbee Robot:
Cost reduction and efficiency increase
Effectively reduce the operating cost of restaurant enterprises, improve and increase service quality and efficiency
Safe, convenient and efficient
3D camera intelligent obstacle avoidance, 70cm narrow road, unimpeded, more stable operation
Improve meal delivery efficiency
Multiple tables of meals can be delivered at one time and higher efficiency.
Upgrade marketing efforts and effectiveness
Rear 15.6-inch large advertising screen, custom marketing content, personalized marketing
In a nutshell, investing on this creative technology invasion helps you in saving your labor cost while promising the ultimate experience in having convenient and fast robot waiter at your restaurants. Not only widely used in hotels, restaurants, office buildings, KTVs, conference venues and other catering and entertainment venues, but now even you can own it or rent it easily without any hassles. It definitely will glow up the brand image of your restaurant in to another best level.